I'm Not Ashamed . . . One Life that Touched the World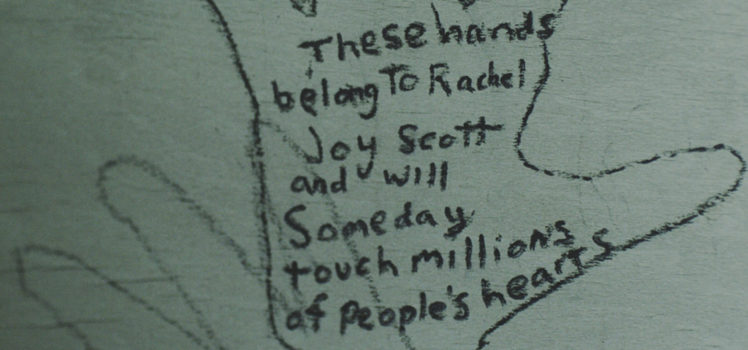 "I've always been drawn to hands. I think it's because it's the way we touch people," wrote Rachel Joy Scott in her journal. "If one person could go out of their way to show compassion, it could start a chain reaction."
Based on her honest and heartfelt journals, this hope-filled story reminds us that when we put our lives in God's hands, we can make a world of difference.
"Rachel wrote that she would one day touch the lives of millions, and we're honored to help make this dream a reality," said Benny Proffitt, executive producer, and founder of the youth organization First Priority.
I'M NOT ASHAMED was released on October 21 in theaters nationwide. It is the inspiring true story of Rachel Joy Scott at Columbine High School. Rachel was the first of 13 people—twelve students and one teacher—killed at Columbine on April 20, 1999, and was singled out because of her Christian faith.
After praying, "Father, use my life to touch the world, and let your light shine through me," Rachel's renewed commitment to Jesus played out compassionately and powerfully at her high school . . . and around the world.
I previewed I'M NOT ASHAMED and was struck by its honesty. Rachel Joy Scott had her struggles and the movie allows the audience to walk through them with her. I think students will be struck with the truth of how God can use them as broken vessels if they will simply yield fully to Him. I suggest you read Greg Stier's blog; he has some great suggestions for students once they have viewed the movie.
Another ministry providing support for this movie through follow-up is Endeavor. Tim Eldred has produced some excellent materials called Begin 21 for students to use with new converts which are being used in conjunction with I'M NOT ASHAMED.
If you have not already taken a group of students to I'M NOT ASHAMED, then gather a group and do it now. If you have, get another group together and do it again. This is a great opportunity for evangelism. It will also open dialogue between you and your youth group to talk about the things that matter in life.
For more information visit: ImNotAshamedFilm.com