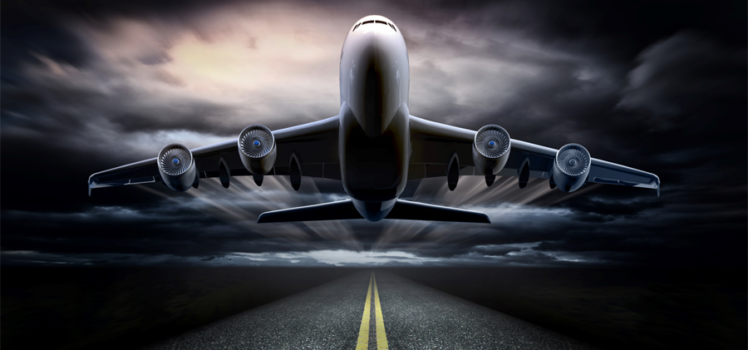 In over 45 years of global travel, I have heard the words "We Are Next for Takeoff" hundreds of times. I confess: I like movement and speed. The thought of getting somewhere faster than normal appeals to me.
I cannot sit for long periods of time without getting bored. It does not offend me if you classify my condition with letters like, CSSS (Can't Sit Still Syndrome). All I know is I prefer to keep moving.
You can imagine I do not do well with delayed planes and I am no fun at all to be around when they get canceled. I do not unjustly get angry at the gate attendants or blame them for mechanical issues or causing storms. There are plenty of others who deserve the blame. However, I don't always smile and quote Bible verses either.
With that information as a backdrop, picture the following real-life scenario:
5:49p – scheduled departure
6:28p – leave the gate due to storms in the area
7:45p – we are told we are number 3 for takeoff
8:00p – we pull onto the runway as the number 1 position
8:15p – we move off the runway because the winds have shifted
8:45p – we are told we have to take off in 15 minutes or go back for more fuel
9:05p – we go back for more fuel
9:50p – we leave the gate again
10:25p – we finally take off
Waiting, delays, postponed expectations…can any good come from these? The writers of scripture answer with a resounding "Yes!"
Jeremiah in his insightful book of Lamentations addresses us about how we are to wait.
Actively – Lamentations 3:25, speaks of God being good to those who are "seeking" while they are "waiting."

Quietly – Lamentations 3:26, challenges us to wait with an "expectant spirit," looking for God to do big things.
David the Psalmist has more to say to us about waiting than I can address in this blog. In Psalm 25 he refers to what we can expect as some of the benefits of waiting on God.
Freedom from Guilt –

Instruction in Truth – Psalm 25:5 says another benefit of waiting on God is learning His truth. Taking time to sit at His feet – to be taught – is vital for our faith.

Guards against Duplicity – Psalms 25:21 tells us that integrity is an irreducible minimum in a believer's life. David references this term in the sense of being whole, not divided. David indicates that waiting on God helped him preserve integrity in his personal life.
I don't like waiting. Honestly, I don't always like waiting on God. I sometimes wish He could just get on my agenda. I know you have never felt that way…right? But the reality is there is no real future in my agenda. My agenda usually leaves me sitting at the gate or circling the airport.
There have been times when I have truly waited on God, truly waited. After decades of walking with Christ, I wish there had been more of those in my life. I am still learning to wait and asking God to help me make wise choices, desiring to know His truth and to have an undivided heart.
What about you?