Nobody Makes You Give Up…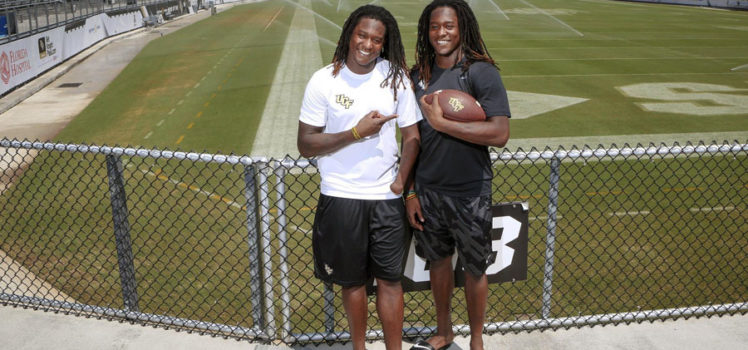 NOTE: I first posted this in November 2016. In light of the recent UCF's winning season, Shaquem's outstanding performance in the Peach Bowl and Scott Foster's new appointment as Head Coach at Nebraska, I thought it worthy of repeating.
"Nobody makes you give up; you choose to give up!" I could not dismiss the quote I heard on ESPN Game Day as just another piece of motivational advice because it was immolated from a real-life story. Terry Griffin, father of twin brothers and (then)UCF football players Shaquem and Shaquill Griffin, shared this nugget of wisdom with his sons.
Born only seconds apart, they were the same in every way except for the Shaquem's left hand had not fully developed. Although just as active and committed to sports, teachers and coaches consistently viewed him differently. Even after being recruited to UCF with Shaquill, he only saw the playing field 3 times in the first two seasons.
Life changed when a new coaching staff arrived. Coaches who stopped looking at what he was missing. Instead they noticed what he possessed…heart. Coach Foster said, "He doesn't want to be seen as having a disability; he just wants to get out and play football like everyone else."
I do not know the Griffin family, Shaquem, Shaquill or anyone in the UCF program personally.  However, after watching their story and reading numerous news releases I would like to extract some leadership lessons.
The parents, Terry and Tangie were caring but firm. Everything points to them being loving and accepting of their sons – both of them. They did not allow what some would have called a "disability" to define Shaqem. They helped develop him and supported his pursuits rather than making excuses for his missing hand.
Shaquill, his brother, is loyal and realistic. He has supported Shaquem, and stood by him while being straightforward when things were not fair. He is Shaquem's cheerleader and friend.
Coach Foster is fair and willing to take risks. He judges players on performance rather than preconceived ideas. He proved his coaching and leadership ability by making a different judgement, he "saw what Shaquem had, not what he was missing."
Shaquem is committed and has heart. Most young men would have quit much earlier in life or never even started. After being overlooked or told no enough times, it is easy to believe what others think about you rather than what is true. A mentor of mine, Dr. J.R. Faulkner once said,
So let me pull it all together. A Good Leader is . . .
Caring but Firm
Loyal but Realistic
Fair and Willing to Take Risks
Committed and has Heart
I am glad I caught the segment on Shaquem Griffin. My life is richer for seeing the story of this young man, his family and this football program.